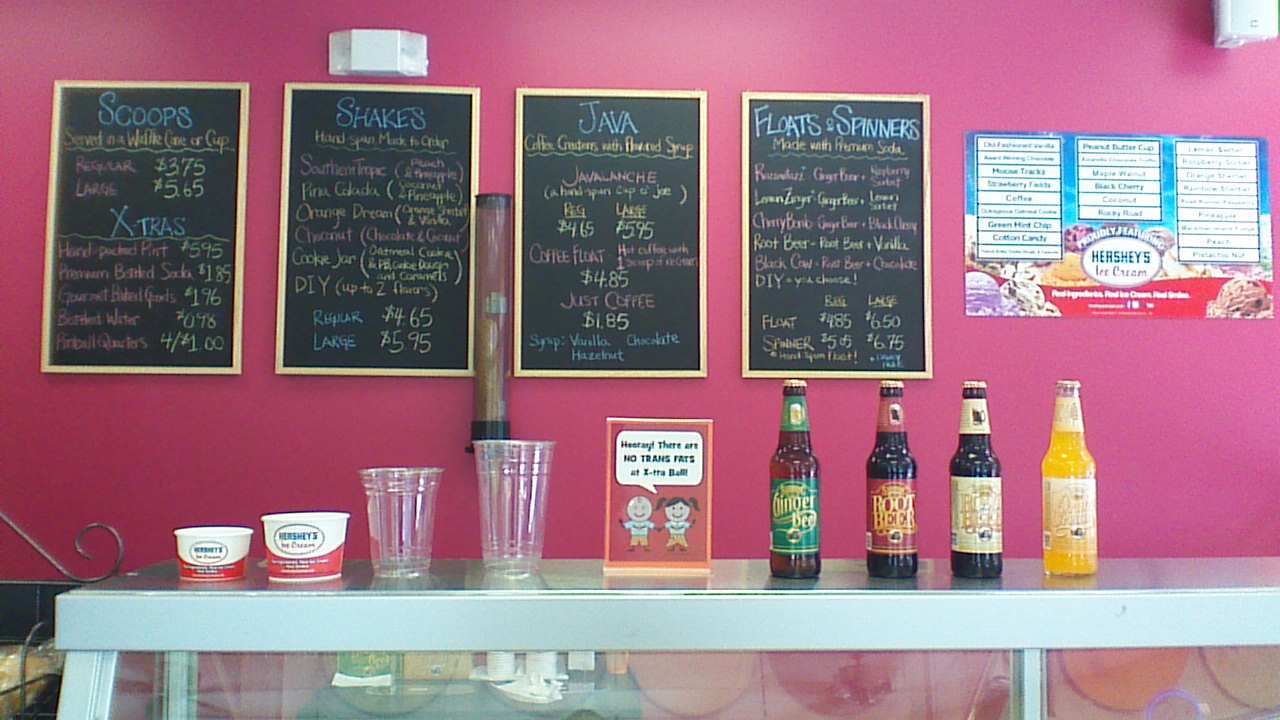 X-tra BallSM specializes in:
24 flavors of old-fashioned hand-dipped Hershey's Ice Cream, served in waffle cones

Hand-spun milkshakes, made-to order (no "dispensers" here!)

Soda floats and "Spinners" (hand-spun floats), all made with premium hand-crafted sodas!

Hot and cold coffee concoctions, including our Coffee Floats and Javalanches!

Hot cocoa - made with premium Ghirardelli chocolate

Real fruit Smoothies: FAT-FREE and blended-to-order

Multi-balls: a great way to enjoy many mini-scoops of different flavors
We are constantly in search of the best-tasting offerings with the highest-quality ingredients. Our menu items do not contain hydrogenated oils, and our premium sodas contain NO high fructose corn syrup and NO artificial colors!
Browse our favorite flavors on our downloadable menu. Our ice cream flavors change regularly (check our Facebook page for new flavor announcements), but some favorites include:
Cotton Candy

Peanut Butter, Cookie Dough & Caramels

Mackinac Island Fudge

Moose Tracks

Birthday Batter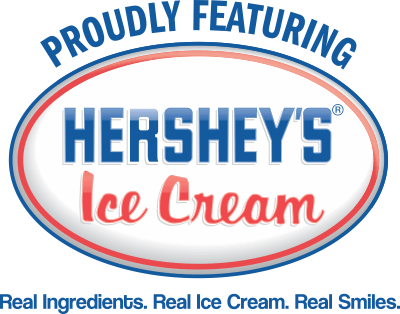 Why Hershey's Ice Cream? The Food and Drug Administration has developed guidelines that specify what products can be called "ice cream". If the products do not meet that standard they must be labeled "frozen dairy desserts."
Trust us - you can taste the difference. Not only is the flavor reduced by way of less dairy fat, other fillers are used to make up the difference, as well as more air may be pumped into the mix when it is manufactured.
Hershey's® Ice Cream has been making REAL ice cream since 1894 - they use only the best ingredients and real fruit and nuts, to produce true, rich, REAL, premium ice cream, sorbet and sherbet. Hershey's® ice cream has less air — what is called "overrun" in the industry — than a lot of other ice cream companies. The result is a richer and creamier ice cream that does not have a lot of filler.
Copyright © 2014 Spandex City LLC
PRODUCTS OF HERSHEY CREAMERY CO. — NOT AFFILIATED WITH HERSHEY'S CHOCOLATE